The staff of Colorado Martial Arts News is committed to bringing you the best coverage of the Colorado Martial Arts scene. Below is our current staff and the positions they hold. Anyone who is interested in writing for us should see how to become a reporter.
To contact a specific reporter, email [email protected] and we will direct your query to the appropriate department. Otherwise, Submit a News Tip and someone will contact you.
Editor In Chief – Bill Pottle
Master Bill Pottle is the owner of the Korean Academy of Taekwondo as well as the Taekwondo Faculty Member at both Metro State University of Denver and the Community College of Aurora. His work on martial arts has been published in several leading magazines. He is also an author of fantasy novels. More information can be found at www.billpottle.com.
International Correspondent – Sarah Anderson
Sarah holds her bachelors' degree and plans to attend graduate school in sports psychology. She traveled to the the World Taekwondo Championships in Puebla, Mexico to follow the Colorado athletes and their fortunes there.
Collegiate Taekwondo Reporter – Courtland Wilson
Courtland is a photographer and also a writer who covers collegiate Taekwondo in the state, mainly the Rocky Mountain Collegiate Taekwondo League (RMCTL). He has a bachelor's degree from Metro State University of Denver.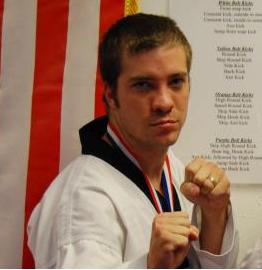 Demonstration Team Reporter – Mark Auten
Mark Auten is a 2nd degree black belt who helps to run the competition team for Universal Taekwondo with his wife Lauren. He reports on the exciting Demonstration Team competitions throughout the state. Universal's Team Thunder are multiple time national medalists in this event.
Self Defense/Philosophy Reporter – Steven Marak
Steven Marak is the head of Martial Arts for Colorado in Thornton. He has a keen interest in Krav Maga and self defense as well as some of the deeper philosophies of martial arts.
MMA Reporter- Sir Salonis
Sir Salonis is a MMA fighter as well as cook, model, student, and artist. Some of his highlight videos have received over half a million views.
Reporters at Large
The following reporters produce general stories on any current topic of interest.
Sung "Tiger" Kim – Master Kim runs Tiger Kim's Academy, one of the oldest martial arts schools in Colorado. You can see his full bio here.
Ramil Abratique – Master Abratique runs Victory Taekwondo in Parker. He has numerous competition achievements, including earning a silver in the World Championships for the Philippines. You can see more about him here.