(Aurora, CO) – The first annual Ninja Mile was held on August 23rd, 2014. Themed races are growing rapidly in popularity, and now it is time for martial arts to get in on the action. As runners sped through the course, they could choose to stop at various stations and complete challenges. Those who did were rewarded with a blue ticket, which gave them a 15 second bonus on their time at the end. Stations included ninja jumps, pushups, situps, squats, and other conditioning challenges. Racers could catch a ring thrown in the air as they approached the finish line, choose to cross the regular finish line or do a flying side kick over the special finish line, and break a board at the end. Racers also received two foam ninja stars at the beginning of the race. A mysterious ninja was also on the course – hitting him resulted in another 15 second bonus.
The competitors and spectators loved the event. Debbie Hostetler said "My kids loved the ninja mile!" Leroy Young had planned to attend just as a spectator, but upon seeing the course decided to participate, saying "It was one of the best decisions I have made. It was alot of fun, and really gets your adrenaline going. I will be there next year!" Monica Downing, the 2nd place finisher in the Women's Division stated: "My friend and I had a blast running the ninja mile! We can't wait to do it again next year!" To keep up with all the action, like the Official Facebook Page. 
Congressman Mike Coffman also got in on the action. He visited the race and spoke with the runners about leadership, giving them details on the path to applying for entrance to one of the US Service Academies. The Congressman was challenged to break a board, and as a former Marine, had absolutely no trouble with the feat.
All competitors who finished earned a 'ninja duckie,' while the top five runners in each division earned medals. The winners of each division also earned $50 stipend checks.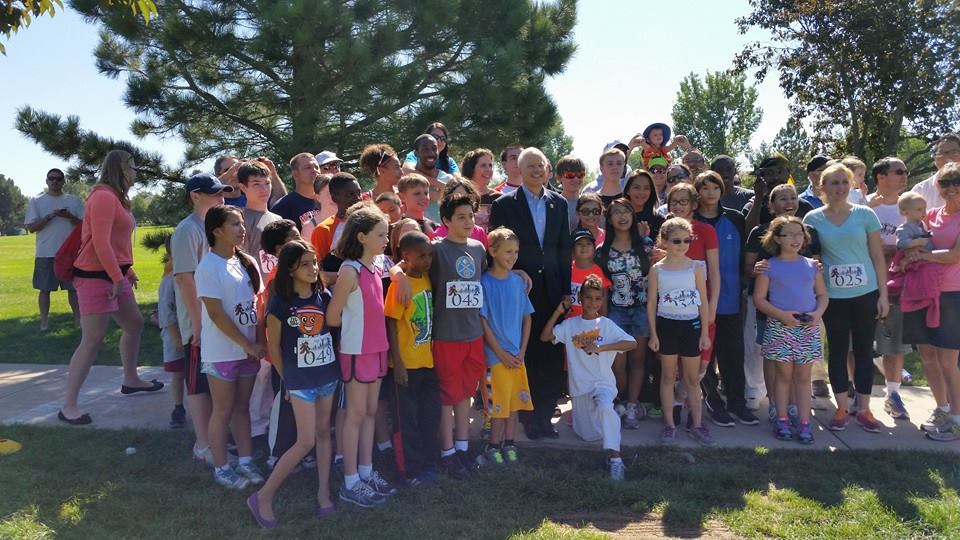 Top Results – Regular time (adjusted time)
Boys (10 and Under)
1. Jibril (6:04)
2. Sam 9:03 (6:48)
3. Franco 9:18 (7:33)
4. JC 9:55 (7:55)
5. Michael 11:32 (9:02)
Girls (10 and Under)
1. Camilla
2. Megan 9:31 (7:31)
3. Anna 9:38 (8:08)
4. Taylor 10:04 (8:19)
5. Mary Kate 11:29 (8:59)
Boys 11-16
1. Jake 7:20 (5:05)
2. Andrew 7:52 (5:37)
3. Andrew 7:58 (6:13)
4. David (6:28)
5. Braulio 8:34 (6:41)
Girls 11-16
1. Alana 7:57 (5:42)
2. Cate 8:27 (6:27)
3. Grace 7:56 (6:41)
4. Chloe 11:08 (9:13)
5. Esme 11:03 (9:58)
Men (17+)
1. Erin Doak 7:16 (5:16)
2. Curtis Pottle 7:04 (5:19)
3. Jack Pottle 7:12 (5:27)
4. Billy Garduno 8:39 (6:24)
5. Chris Webster 8:37 (6:37)
Women (17+)
1. Caitlin Brown 8:34 (6:34)
2. Monika Downing 10:12 (8:42)
3. Paige Dickens 11:04 (9:04)
4. Shayna Reibman 12:17 (10:02)
5. Linda Longoria 12:13 (10:13)